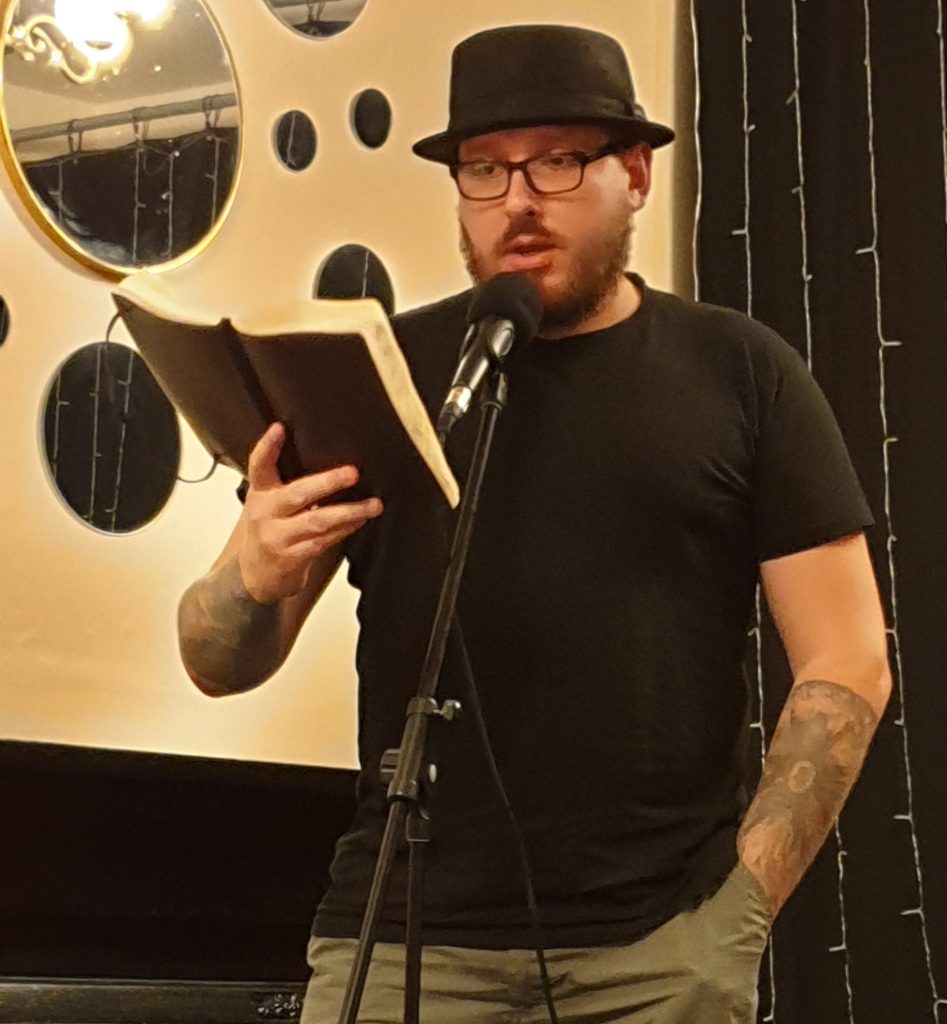 We thought it was about time we invited Z. D. Dicks, the Gloucestershire Poet Laureate and CEO of the Festival to feature in one of our Feature + Q&A events. The compère will be Hokis (https://hokis.blog/) a poet who has, herself, featured in a GPF on-line event. There is a treat in store and a chance to see him before his book launch on 14th September.
Z D Dicks holds an Ma in Creative and Critical Writing from The University of Gloucestershire and is the author of Malcontent and Intimate Nature (Black Eye Publishing).
He's been described as 'Uncompromising, sometimes controversial, but always entertaining' by Clive Oseman and 'Evocative, atmospheric, breathing new life into the everyday' by Nicola Harrison. Z. D. Dicks is the CEO of Gloucestershire Poetry Society and Gloucester Poetry Festival. His work has appeared in Ink, Sweat and Tears, Obsessed with Pipework, Sarasvati, Three Drops from a Cauldron, Fresh Air Poetry, As it Ought to Be, I am not a silent poet, The Hedgehog Poetry Press (plus many more including numerous anthologies). He frequently reads at poetry events throughout the UK. He's been described as 'a gothic Seamus Heaney' by Anna Saunders (Director of Cheltenham Poetry Festival).
Z D Dicks' books can be ordered from the following independent bookshops:
Banner Books (Ennistymon)
bannerbooks.ie

Book Corner (Saltburn-by-the-Sea)
bookcornershop.co.uk

The Bookshop (East Grinstead)
eastgrinsteadbookshop.co.uk

Brendon Books (Taunton)
brendonbooks.co.uk

Bridge Bookshop (Isle of Man)
bridge-bookshop.com

Browsers Bookshop (Porthmadog)
browsersbookshop.com

Gullivers Bookshop (Wimborne)
booksandvinyl.co.uk/gullivers

Gnash Comics
gnashcomics.co.uk

Gwisgo Bookworm (Aberearon)
gwisgobookworm.co.uk

Haslemere Bookshop (Haslemere)
haslemerebookshop.co.uk

Hungerford Bookshop (West Berkshire)
hungerfordbookshop.co.uk

Lindum Books (Lincoln)
facebook.com/lindumbooks

Mostly Books (Abingdon)
mostly-books.co.uk

Niche Comics and Bookshop (Cambridgeshire)
nichecomics.co.uk

Red Lion Books (Colchester)
redlionbooks.co.uk

Sam Read Bookseller (Grasmere)
samreadbooks.co.uk

Wivenhoe Bookshop (Essex)
wivenhoebooks.com

The Woodstock Bookshop
woodstockbookshop.co.uk


XXXXXX Further information about work
Join us on Zoom (you will need to register using the ticket link below in order to receive the pass-code, this will be sent by e-mail within 24 hours of the event starting):-
Meeting ID: 881 8045 3617
Dial in to join by phone if you wish:-
+44 330 088 5830
+44 131 460 1196
+44 203 481 5237
+44 203 481 5240
+44 208 080 6591
+44 208 080 6592
Find your local number: https://zoom.us/u/aeg9xXpiad
You can get tickets for this event here:-

https://helmtickets.com/events/6460/z-d-dicks-ticketed-free-event