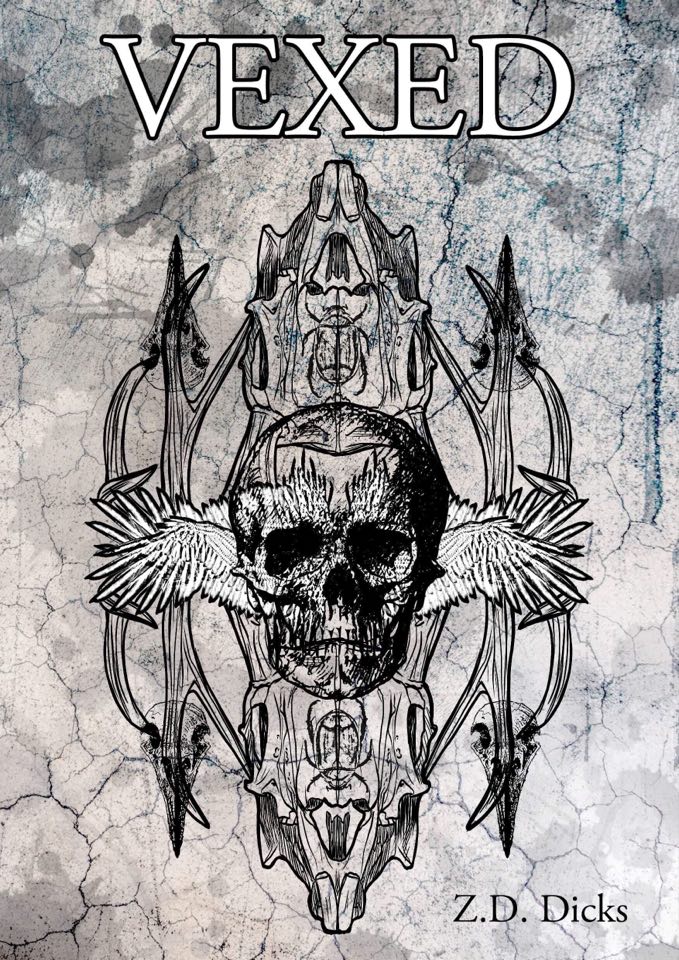 Vexed Synopsis
Join us for the launch of the new collection by Z D Dicks, Gloucestershire Poet Laureate.
There will be feature slots too from:-
Carole Bromley
Helen Ivory
Sarah Leavesley
K S Moore
Ness Owen
Alan Toltzis
In Vexed – Z D Dicks' electrifying new collection, a series of unexpected protagonists face dramatic challenges (a Bodhisattva learns to let go, Diogenes looks at a cynical world, Achilles hears his dead lover), and the human condition, with all it's trials and tribulations, longings and aversions, fears and excitements are explored in a series of richly lyrical and vividly imagined poems.
Dicks takes the reader into fantastical, yet convincing worlds to explore our darkest secrets and inner conflicts – in Black Tooth Fish there is the sometimes tortuous nature of desire, death is examined in Blossom, in Buffet a disaster benefits those who aren't the victims, in Doppelgänger – the protagonist comes to terms with the painful experience of being ghosted, Owl Rising – is an exuberant giving into to the lack of control we experience in life and The Loaded Gun details a quasi-sexual attitude to violence.
This is an unflinching and clearsighted collection, in which our most intimate concerns are explored and addressed head on, in charged, beautifully wrought and fiercely original poems.
These are poems which address the perhaps irresolvable conflicts, questions and dilemmas in our life – this is a book for anyone who has ever felt vexed.
Quotes about Vexed
'In Vexed, Z D Dicks pulls titan, shaman, alchemist and fantastic beast into a realm where the natural and manufactured coalesce. Our guide through this landscape of petrol rainbows, metal tongues and acid storms is a poet enraptured and enlightened by the beauty and awe of the unusual and terrific. His strict eye always on his deft organic verse; Germanic, alliterative and mythological, but always placed in the painful present'.
-R M Francis
'The poems in Zack Dicks's Vexed are not ones you would want to curl up and get cosy with. The language is visceral and sometimes startling, the images precise and unexpected. In 'Doppelgänger', his 'double rides a hog roars through streets / chugs and judders with goggled fly eyes'; and I suspect this is how to experience Vexed. Don't examine each line or image, buckle up and enjoy the ride.'
–Angela France
'Vexed introduces an exciting new poetic voice. In language which crackles and fizzes, the collection offers us a range of subjects, drawing on everything from Brexit-era Britain to Classical myth. I'm particularly taken with explorations of the natural world in this collection: in poems like 'Falcon Drive' and 'Black Tooth Fish,' the poet proves himself adept at fashioning a language which thrillingly gives us the world of beasts. Powerful and distinctive, Vexed announces a writer to watch.'
-Jonathan Edwards
'These poems bring to mind every apocalyptic painting I have ever seen. In dark reds and golds they are bone black-box theatres all painted with muscular language. Here, we see Diogenes the beggar, pull a half-eaten sandwich from a city bin and a man stripped down to his bones being eyed by dogs. Tread carefully in this vexed and shaken world when one trip on the platform could send you plummeting to hell's fiery tarpits'
-Helen Ivory
Join us on Zoom (you will need to register using the ticket link below in order to receive the pass-code, this will be sent by e-mail within 24 hours of the event starting):-
Meeting ID: 830 9987 7097
Dial in to join by phone if you wish:-
+44 330 088 5830
+44 131 460 1196
+44 203 481 5237
+44 203 481 5240
+44 208 080 6591
+44 208 080 6592
Find your local number: https://zoom.us/u/aeg9xXpiad
You can get tickets for this event here:-

https://helmtickets.com/events/6445/vexed-by-z-d-dicks-ticketed-free-event
You can order copies of Vexed at Apex Poetry here.